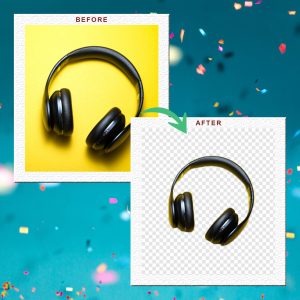 Removing lousy backgrounds from images for Ecommerce
When you are putting your products up on an e-commerce platform, you must make sure that the products have clear and high-quality images. Images are your foremost tool to attract the target audience. If the images you are using to showcase your products are of low quality and the features are unclear, then your product will lose its charm. The audience will lose all interest in them.  A big setback in this is having a vague or bad background to your products. So, what can be done? An easy background removal app will ease your way towards great success. What does a background removal app or software do? They serve you to remove unwanted elements from your pictures!
This becomes exceptionally crucial for your e-commerce store. E-commerce platforms rely on impeccable product photography that helps you retain the buyer's attention. It is sometimes seen that the charm of the products is marred because of a lousy background. But, now, with slazzer.com, you can rectify these issues within a heartbeat.
With our software, instantly remove image backgrounds and make your visuals flawlessly stunning.
Let us help you:
Are you spending long hours editing backgrounds from the images you have kept to put up in your e-commerce site? Or probably you are spending heaps of money on an excellent photo editor? But, Slazzer.com can help you achieve stunning results for your product photography.
Slazzer.com has services like customized background removal and adds magnificent visual effects to your images. The software can help you in enhancing the highlighting features of your products using masking features.
Slazzer.com also improves your pictures by creating shadows of your website views and produces ghost photo effects across any surface.
Services that we offer
We provide a host of offerings for your benefit. Some of the top services that we give to our clients are:
You can easily remove unwanted background from your images with a single click.
You can easily retouch the images.
You can get your e-commerce store beautifully ready for other online marketplaces.
Color correction and quality improvement become an easy task.
Our photo background remover services are going to give the right solutions for your product images by creating outstanding photography.
Benefits of Using Our Services
Slazzer.com comes with a host of benefits for e-commerce stores. With slazzer.com, your energy and money will be conserved at the same time you will get perfect product images in no time!
Beautifying the look of the E-commerce page
E-commerce sites rely on perfect images that are clear and put forward the features of the products in a peculiar manner. E-commerce sites will gain attention if it is informative, and the products are portrayed clearly. With slazzerr.com, you can beautify the images and make sure that your e-commerce site looks immensely attractive. You can remove lousy backgrounds and fix some bright, attractive ones to make your site exquisitely charming.
Save Time and Money
You will save a lot of money when you use our photo removal tool and enhancer services. You can also use these services without much knowledge of image editing. Professional service doesn't need you to browse other websites for photo editing.  You will also save quality time by using our services as we give you background image removal in just a few seconds.
Increase your Sale
Our appealing background removal services help you to generate more sales. Enhanced image quality drives in the visitors to the websites, and the high-quality images attract and retains your customers. So, an attractive image has a higher chance of generating better revenues for your e-commerce business.
Edit Batch Files
You can drag and drop an innumerable number of images that you need to process. These images will be restored to you with white backgrounds and 100% quality. Save quality time by cutting down your work to a minimum.
Meet online Requirements
There are certain conditions that you must meet when you are trying to upload photos to the e-commerce stores. Some need pure white backgrounds while others grey ones. Photo editor apps from Slazzer.com will help you to remove picture backgrounds free.
So, for the best background removal services for your e-commerce store, contact us today. We guarantee 100% image quality, fastest results, and better conversion rates for your website.