Automatic- High-Grade Graphics for Social Media Users & Brands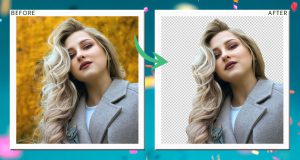 As an Instagrammer or social media freak, you obviously know the importance of crisp pictures. High social media engagements are best fueled by good images with striking backgrounds. Are you looking for better backgrounds for your selfies or group pictures? Now you can get more 'likes' and engagements on your favorite social media platforms.
Slazzer helps in framing your image on different locations, with celebs or favorite icons, or just as you wish, to show your creative side to the world. The USP of this API backed AI photo background remover is that it handles selfies, portrait, or product photos automatically, and with equal ease.
Connect Brands and Customers
Slazzer provides advertisers and brand managers with an easy-to-use platform for their campaigns. Enhance your brand engagements and advertising campaigns by learning how to remove the background online for free. Likewise, you may want to empower your customers to share and design more creative images likewise.
Slazzer –Remove White Background
Are you planning to use Slazzer for postcards, product photos, ID photos, posters, invitations, Facebook and Instagram, or important presentations? There are many more exciting activities for e-commerce product managers, designers, and photographers (pros and amateurs alike) than removing backgrounds by hand.
Rest assured.
With this futuristic background eraser in place, every published image will look attractive and unique. Slazzer's smartly-conceptualized API reduces editing time like no other while allowing image editors to have fun. The tools, downloads, and plugins are designed to cater to eCommerce sites, diverse computer environments, and popular design programs alike!
Auto Remove Image Background – One Click is Enough!
Have you ever wished an automatic background remover to retain your sanity while working on business or individual images? Are background cut outs encroaching into your core work time? If yes, you have a winner on hand with Slazzer.
Top Features of Slazzer Background Removal Tool
– Slazzer 'auto background removal' features will remove any image background automatically.
– There is no need to grope for selection tools, mark the subjects in the foreground, or waste good time drawing outlines to make image backgrounds clean.
– Once the background is transparent, you can set any background image or a solid color of choice.
– An AI tool works on its own to remove image background, without your intervention or a single touch. The end-to-end tool does everything to remove the background from an image online within a few seconds.
Way Forward with Slazzer – Remove Background from Image Free
Make your image editing, picture management, and digital transformation journey smoother. Here's a peep into how easy the API integration at Slazzer, even for first-time users:
Source images: Direct uploads from your mobile, laptop or HDD
Result images: PNG image files that can be easily downloaded for different use.
Output resolution: Up to 25 megapixels
Areas of application: Works to perfection on crisp images of humans, automobiles, animals, and products.
You may want to check out the API documentation to remove the background online; do so today!